Imr 3031
Imr 3031 is a medium burn speed propellant with many uses, and has long been a favorite of 308 Match shooters using 168-grain match bullets. It is equally effective in small-capacity varmint cartridges from 223 Remington to 22-250 Remington, and it's a great 30-30 Winchester powder.
Hodgdon IMR 3031 smokeless rifle powder is a great choice for small capacity varmint rifle cartriges. This propellant burns at medium speed and is an excellent choice for a variety of rifles including Remington and Winchester rifles like the Remington 223 or the 30-30 Winchester.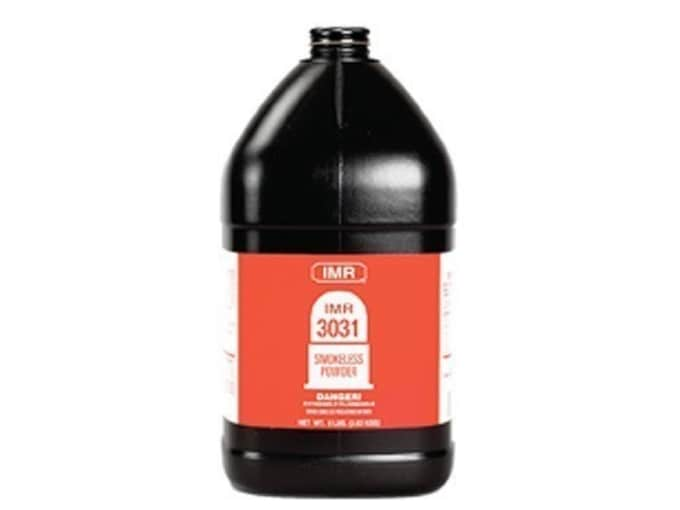 If you're looking for a quality propellant powder that you can depend on, you'll want to bring along IMR® 3031 Smokeless Reloading Powder the next time you're out in the field. This versatile powder is a perennial favorite with .308 Match shooters who use 168-grain match bullets. It works great with a .30-30 Win, and it's also a highly effective powder for small-capacity cartridges such as .223 Rem and 22-250 Rem.
Important Information:
Do not exceed the loads displayed in the reloaders guide.
Never mix any two powders regardless of type, brand, or source.
Never substitute any smokeless powder for Black Powder or any Black Powder substitute
Consult your state and local laws for the age restrictions and legality of ordering and possessing these products. For safety reasons, we do not accept returns on powder. Due to special shipping requirements for these products, an additional $22 Hazardous Material charge will be applied for any order containing flammable material. Contiguous 48 states only. For US sale only. Due to shipping regulations, signature is required at the time of delivery. The sale of primers, powders, and Pyrodex is prohibited to the states of Delaware, Massachusetts, Rhode Island, New York City, & Jacksonville, FL. You must be 21 or older to purchase black powder in California. Cannot ship via ship-to-store to Anchorage, AK store. A physical address is required for delivery. This item cannot be expedited and must ship ground.